Steve Owens BLVD, looking east. If you turn right at "OKIE Burger", the office that I work at for the Schools, is a block away. Yes, we moved out.
Looking west on Hwy 69. There are actually two crazy kids climbing up to the roof of their house to get something out of the attic. Anyone who got in the water was supposed to get a tetanus shot!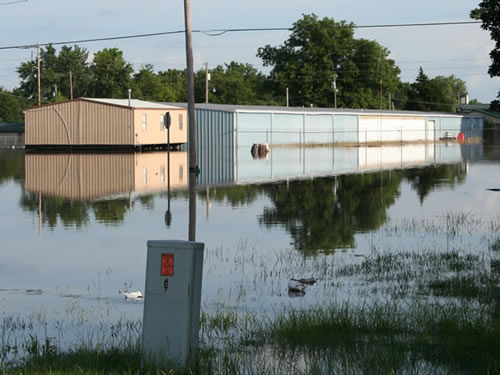 The Miami Public Schools Bus barn. The mobile unit was elevated on cinder blocks to the 100 year flood plain. The waters rose 12 more hours after this photo. Water touched the bottom!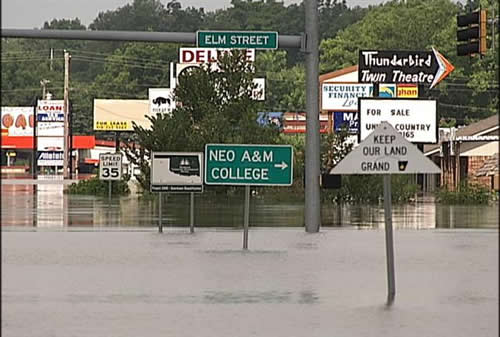 Steve Owens Blvd, looking west.
Lots of boats and canoes in the streets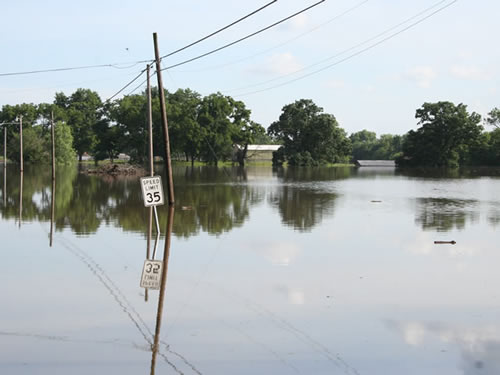 Elm Street, looking south.
Published: July 05, 2007 09:23 am
Up to 2,000 evacuated, now comes cleanup
By Sheila Stogsdill
THE JOPLIN GLOBE (JOPLIN, Mo.)
MIAMI, Okla. — Fighting exhaustion and fatigue, city officials moved into cleanup and recovery work as the Neosho River began to slowly recede.

The river crested early Wednesday at the Stepp Ford Bridge, west of Commerce, at 29.25 feet, almost 15 feet above flood stage, said Miami Mayor Brent Brassfield. Downstream, part of Grand Lake in Oklahoma was covered with a murky film mixed with logs, limbs and other debris.

"We've been hit harder than any community that's gone through the flood," Brassfield said, his voice cracking with emotion. "I see classmates, teammates — I am counting my blessings we haven't lost lives. The fact is, we are a resilient people."

But the devastation is severe.

City officials said as many as 1,500 to 2,000 people may have been evacuated from 500 homes and 30 businesses that flooded.

Lavene Eidson, 74, who lived through the flood of 1951, said this flood is worse for her rock house, which has floodwaters up to its roof, even though the earlier flood was several feet higher.

"We lost everything," said Eidson, who has no flood insurance or homeowner's insurance.

"Nobody told us to get out until it was too late," she said.

The American Red Cross reported that 55 families were staying in the city's shelter. The agency said it was feeding more than 225 people at each meal, with the number growing.

"I hadn't planned on spending the Fourth of July like this," said Charles Scott, who has spent the past two days at the Red Cross shelter.

Scott, who had been staying with friends in a two-story house, was evacuated around 4 p.m. Tuesday.

"I've lost everything," he said. "The only thing I have is the clothes on my back."

He said floodwaters were 6 feet deep inside the house.

"I came down the stairs and saw the washing machine and dryer floating inside," Scott said. "I also saw a mattress float by with six dogs on it."

Submerged

City and state teams used boats Wednesday to start inspections of some of the flooded areas. They saw water up to basketball rims and to the second floor of two-story homes. Some homes were submerged.

Brassfield called the scene "indescribable."

U.S. Rep. Dan Boren, D-Okla., toured Miami by helicopter Wednesday.

"This is not your everyday flood," he said afterward.

Boren said he will push for all forms of assistance to help residents affected by the flood. Before his visit, Boren said, his office called every church in Miami getting a list of items that people need.

'No way of telling'

"There is no way of telling how long it will be before people can get back into their homes," Brassfield said. "The water didn't get here overnight, and it won't go down overnight."

Floodwaters have not detoured sightseers who are flocking to flooded areas, hampering cleanup and inspections, he said.

Brassfield went on local television and radio stations with pleas for sightseers to stay away from flooded areas.

On Wednesday, police started issuing tickets to people who were going around blockades.

"People need to stay out of the water," said Michael Spurgeon, city manager.

The Ottawa County Health Department has given more than 120 tetanus shots to residents who have come into contact with contaminated floodwater, officials said.

Water is expected to recede to 22 feet by Saturday morning, leaving Oklahoma Highway 125 the only road closed, Spurgeon said. With the exception of one major highway, all other roads and 40 streets in Miami remained closed and underwater, he said.

Spurgeon said 55 Oklahoma National Guard members are assisting the Miami Police Department.

"We haven't had any looting problems, and we don't anticipate any problems," he said.

City officials said the water supply is safe, but they are encouraging residents to boil water.

Too much water
Twenty floods have hit the Miami area in the past 21 years.

The latest is being called the worst flood to hit Miami in 56 years.

"It's a devastating situation," Spurgeon said.

The muddy murky water, filled with debris, raw sewage and tree limbs, covered much of the city, with its highest level between 8 and 10 feet in some parts of the community.

Some houses in southeastern Miami were almost under water, with only a few shingles visible.

The National Weather Service on Sunday had warned residents that the Neosho River could crest at 23.6 feet by Thursday at the Stepp Ford Bridge west of Commerce. By Tuesday afternoon, floodwater already had topped a revised prediction of 28.5 feet, said Brassfield.

Brassfield said this year's flood quickly surpassed the 1986 flood and could challenge the record flood of 1951, when 75 percent of Miami was under water. About 30 percent of Miami residents live in a 100-year flood plain, Brassfield said.

"Some of the people living in the flooded area are financially challenged, and can't afford to move and can't afford insurance," he said.

The Ottawa County community has had 14 major floods in the past 21 years, records show.

Amber Lejk, a transplanted Californian, broke down in tears after volunteers rescued her and her three children from their flooded home.

After waiting more than 12 hours for help, the young mother left with her children and the clothes on their backs.
With volunteers holding the boat secure, Lejk, who is four months' pregnant, handed off 4-year-old Catalina, 3-year-old Anthony and 1-year-old Mina to friends who waded into the water to meet the boat.

"I was so relieved I almost cried," Lejk said, referring to the volunteers who navigated their boat down a flooded Central Avenue beside Northeastern Oklahoma A&M College.

Gov. Brad Henry took the hand of the crying mother, telling her, "Together we will all get through this."
Henry, who toured the area by helicopter and on foot, said he will ask President Bush and the Federal Emergency Management Agency to declare the area a federal disaster area.

Lejk said she hadn't slept in more than 36 hours while she kept tabs on the rising water throughout Monday night. Floodwater began to gush into the house through the doors early Tuesday. She said the possibility that snakes might swim into the house was among her concerns.

City officials estimated that 1,500 to 2,000 people, 300 homes and 30 businesses in Miami and the surrounding area had been evacuated. Extra chlorine was being added to the city's water supply to prevent contamination, officials said.

More than 50 rural and city roads had been closed, and all major highways into Miami, with the exception of the Will Rogers Turnpike exit and U.S. 69 from Kansas, had been shut down.

Northeastern Oklahoma A&M College and several offices in the Ottawa County Courthouse were closed Tuesday.

Brian Turner, an NEO sophomore from Afton, who had help from several friends and relatives, spent Tuesday morning moving his belongings out of his dorm room into rental storage.

A side road that runs north and south in front of the campus was flooded, prompting students to leave their dorm rooms.

Turner said about 15 vehicles had attempted to drive through the floodwater and had become stuck.

With water sloshing against the trailer that was loaded with mattresses and boxes, Turner breathed a sigh of relief when his belongings made it across the rising water onto dry land.

Randy Cornog of Miami said he got less than two hours of sleep Monday night, but he was back helping his family try to save belongings.

"At one point, we saw our deep freezer come floating by with all the food spilling out," Cornog said.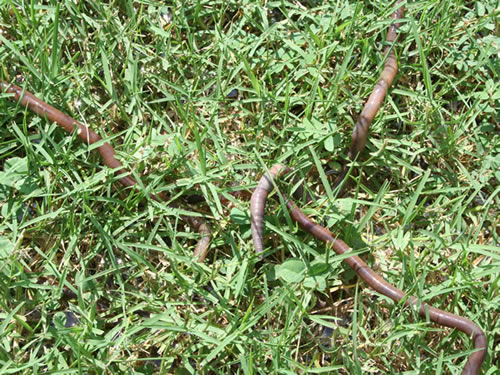 As soon as the water flooded the yards, the night crawlers came out by the hundreds. The yard glistened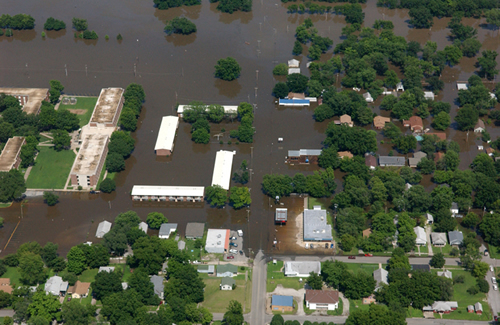 NEO Married student housing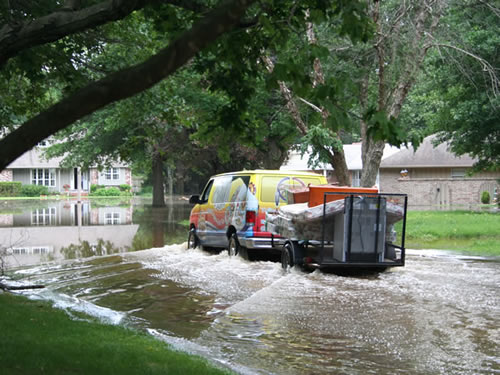 My truck and horse trailer became too low to the ground as the waters rose. We then went to trailers, then Uhauls with beds above the tires. When the streets were too high for any traffic, we moved it on foot.
Steve Owens Blvd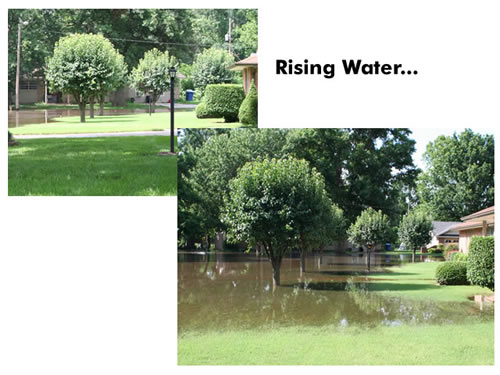 These flood water rise slowly as shown here, a time lapse of about 3 hours.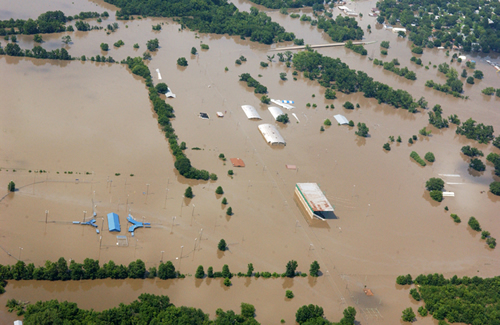 Fairgrounds and Softball Field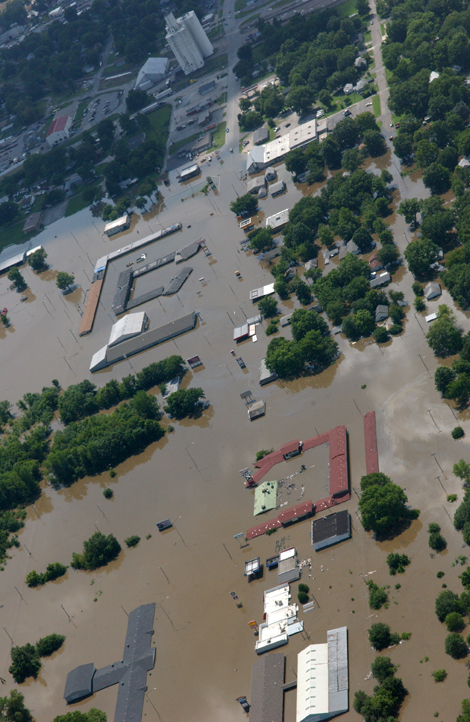 Steve Owens Blvd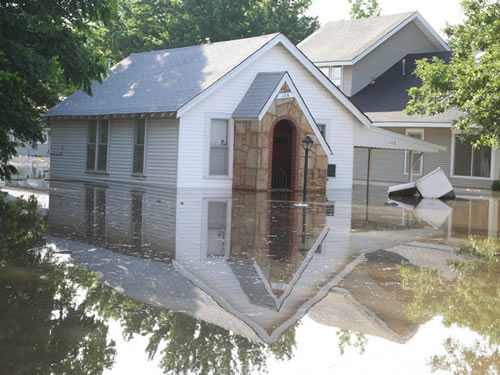 A great shot. A sad shot.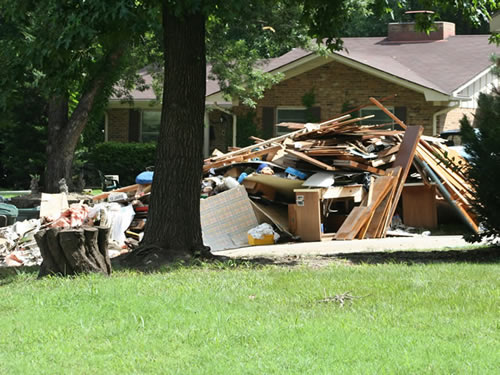 Another home on the lawn. Floods to not discriminate.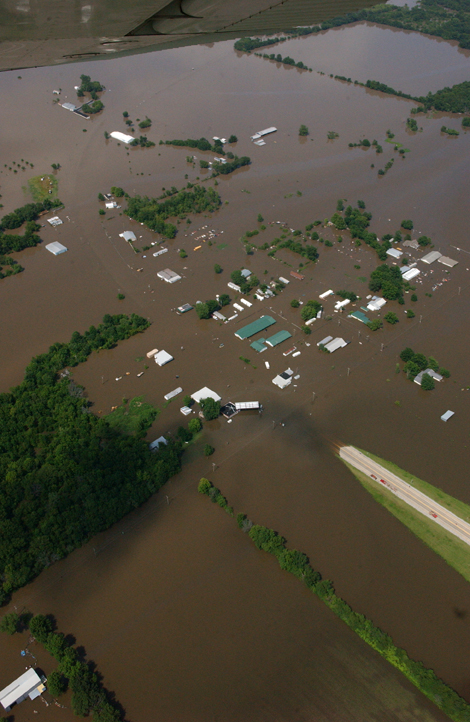 The road (?) to Welch. Waynes One Stop.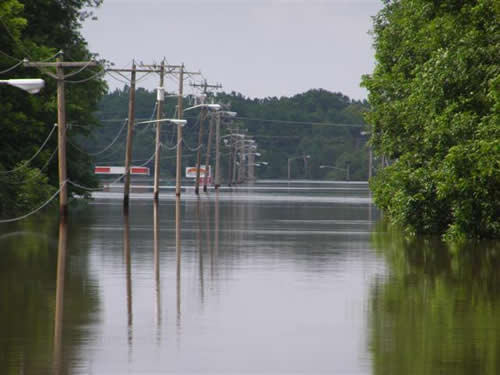 Looking towards the Fairgounds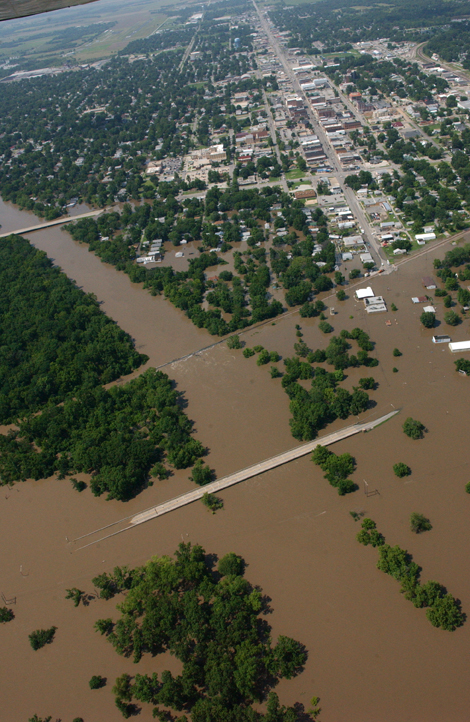 South Main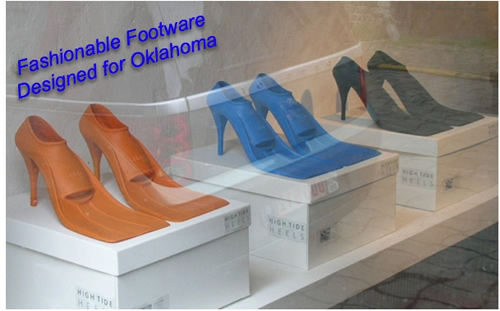 Flipper Heels?
Herman Lumber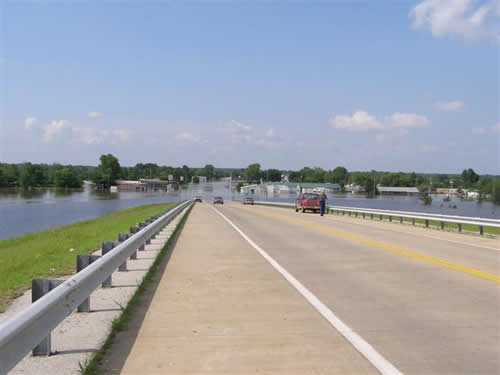 Waynes One Stop, west of town
Industrial Park, Turnpike I-44 at the top left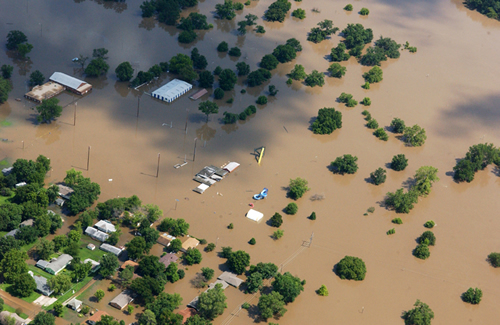 Municipal Pool and Park. Newly remodeled just last year! Look for the tall blue water slide.
Waste Water Plant, Boys Baseball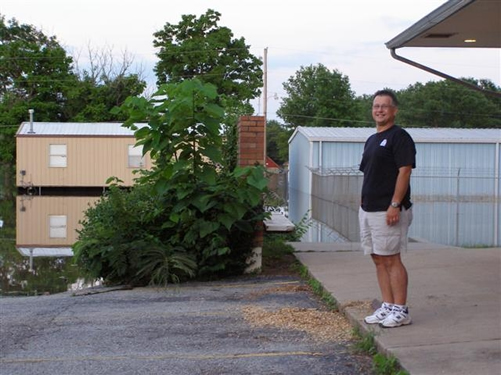 The bus barn and Scott standing on the entrance to our office. The water eventually got to the door, but not in the building!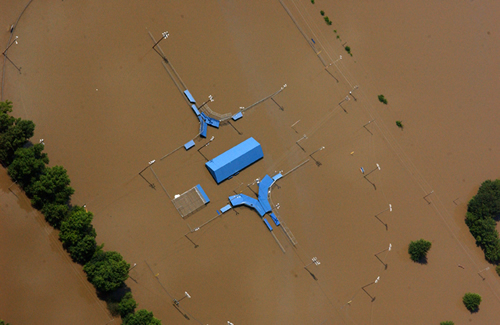 Softball Field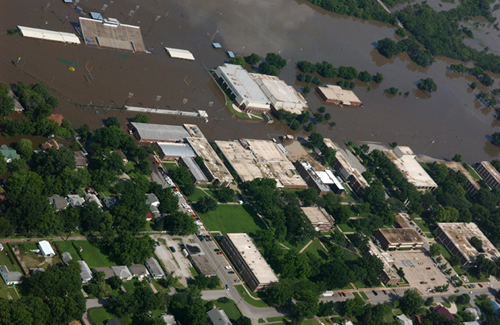 NEO College. Flooded the football field, gym, Nursing building, student union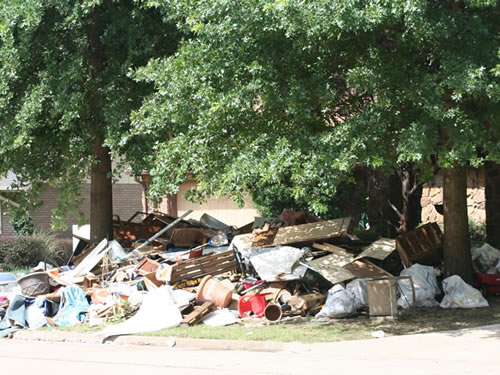 Total houses moved to the lawn for trash pick up
South Main, Railroad Tracks, Fairgrounds, Notts Grocery, FireStation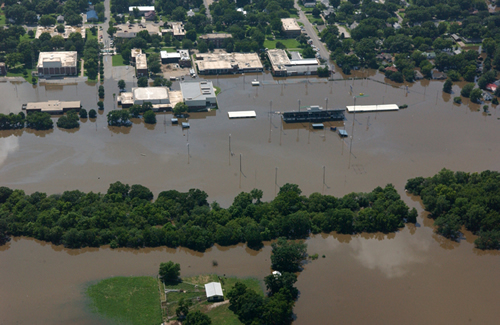 NEO College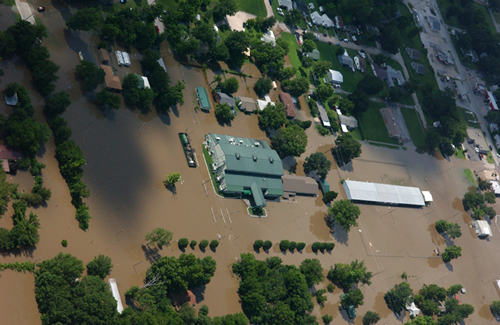 The Stables Casino was an island. The bus barn was flooded, just to the right